Drones & Sensors–It's just the beginning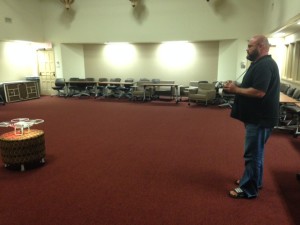 Here is a video that I took while professor Blasingame flew the drone in Old Main very carefully: drones vid
What did you find most interesting?
I thought so many things were interesting about drones and sensors. It was amazing to see how fast the drones' spinning wipers at the top were going and the huge gust of wind it created while standing near it. I did not realize how loud it was and how dangerous it can be. You definitely need to practice a lot in order to be confident flying the drone anywhere. It is also very exciting and interesting of how far this can go in the future. This is only the beginning of using drones and I feel like there is going to be a huge advancement of this tool whether it's for journalism, science or for fun.
What do you see as the potential for drone and sensor journalism?
I see a huge potential for drone and sensor journalism. There are so many cool things that a lot of people do not know about while using drones and sensors. Whenever we did the sensors part of the session, it is crazy how easily it is to hack into something while using a little gadget. It was really exciting to see the temperature changing while using the sensor and to see the connections it made from the particle onto the computer within seconds. Both of these things will advance and are already growing so much so quickly.
What do you plan to do with this knowledge in the future?
I really enjoyed learning about these topics within a short amount of time. Even though I learned basics with some detail I feel like I have learned a lot. I think it would be fun to get a mini drone and take pictures or video from it just for fun. It could be a cool side hobby and who knows I might be able to use some of those shots for my job one day.
We were given multiple articles and videos to learn more about drones and sensors as well. One of my favorite articles was talking about a sensor that can measure the temperature of the soil in the ground to see when cicadas come out in the spring. They found that whenever the soil temperature gets to 64 degrees, the cicadas know that it is warm enough to come out of the ground. How crazy is that?!
Here are the links for more about this:
http://project.wnyc.org/cicadas/
http://www.niemanlab.org/2013/06/the-cicadas-are-here-4-lessons-from-wnycs-cicada-tracker-project/
Another article that I was fascinated with was about a journalist and author who wanted to fly a drone, but he was required to get his pilot's license…and he did! He went through an entire course and got his light-aircraft pilot's license and he said that he really didn't see why drones were a problem except he understood why pilots would be against them. It is hard to see where the drone is whenever a pilot is flying a plane and he understood that only downside of drones whenever he took the course.
Here is the link about this:
http://www.cjr.org/united_states_project/matt_waite_drone_journalism_lab.php
I also wanted to thank professors Cindy Royal and Dale Blasingame for creating this short course. I feel like students need more classes like this while going to college. I am glad that I was able to take this class and the other short courses before I graduate in May. They worked really hard making this work out and putting all of the material together. I enjoyed this class and I hope more students get the privilege to take it as well in the future!
Sandy Nuzum–Drones & Sensors