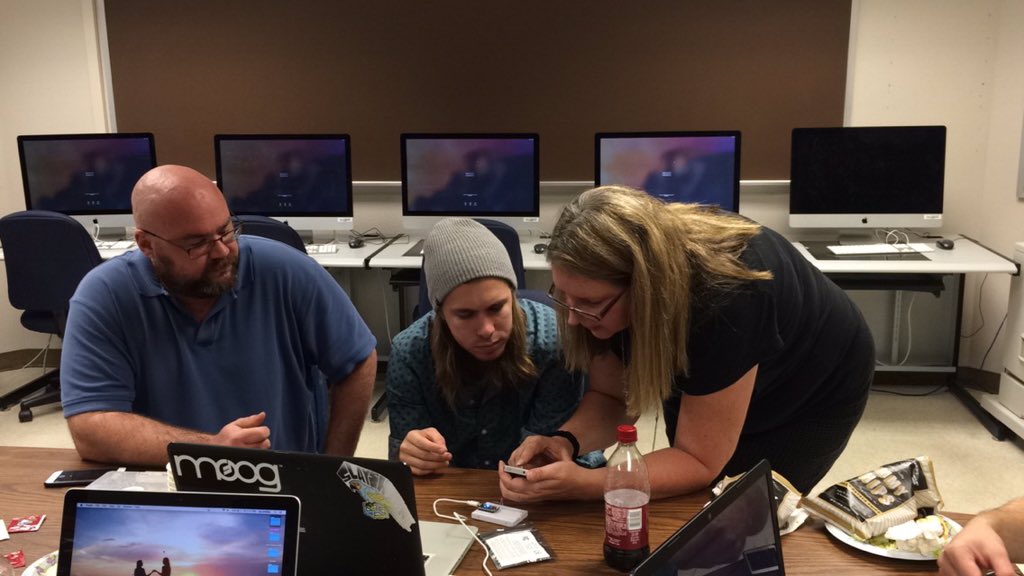 Schedule of Topics
Oct. 19
Introduction to the course
Why use drones and sensors in communication
These readings are meant to introduce you to various sensor- and drone-based projects. We want to give you an idea of the cool things people are doing with drones and sensors.
Dronalism is the Future of Journalism, Neel Patel
Elevating the News with Drones, Dawn Garcia; be sure to watch the videos in this post. Ben Kreimer, who you will see in the 2nd video, will be joining us for the workshop on Oct 31.
Why a Drone Journalism Professor is Getting His Pilot's License, Columbia Journalism Review
Organization: Professional Society of Drone Journalists
Sensor Journalism 101, Amy Schmitz Weiss
Project: What's in the Air, San Diego State University; this page on the inewsource.org site that tracked the project; peruse the posts to get an idea of what they did. The What We Learned links will take you to the stories students created using sensor data. Be sure to also watch the videos.
Project: Cicada Tracker, WNYC; another project using sensors.
The Cicadas Are Here: 4 Lessons from WNYC's Cicada Tracker Project, Nieman Journalism Lab, 2013.
Future Project: Sensors and Food Trucks, Knight Challenge Fund Grant; this is a project we'll be doing in the Spring. Hopefully some of you will want to join us!
Oct. 21
Drones in Journalism and Communication
Read: Times and Other News Organizations to Test Drones, New York Times
Watch: Extent of Devastating South Carolina Floods Reveled by Drone Video, NBC News
Watch: 1,500′ TV Tower, Prairie Aerial
Watch: 'Dronehenge,' BBC News
Watch: Drone Captures Devastation After Super-Typhoon Haiyan, Lewis Whyld
Watch: Drone Films Huge Thailand Protest Crowds, BBC News
Watch: Ben Kreimer on Drone Journalism, John S. Knight Journalism Fellowships
Watch: Manyara Ranch – An Aerial Exploration, Ben Kreimer and African SkyCAM
Explore: Nairobi Dandora Dumpsite, Ben Kreimer and African SkyCAM
​Watch: The Future of Drone Journalism, John S. Knight Journalism Fellowships​
Oct. 26
Drone demonstration – see the other videos on the TRACS site for drone demonstrations
Oct. 23
Sensors in Journalism and Communication
How Sensor Journalism Can Help Us Create Data, Improve our Storytelling – Matt Waite, Poynter, 2013
Sensors and Journalism, Tow Center – Read Intro, Framework and Case Studies. This is a comprehensive analysis of the current state of sensor journalism.
Sensor Journalism, Uncensored, Medium, Lily Bui, 2014
Monitoring the Monongahela, John Keefe
Watch: Sensor Journalism Workshop, Keynote Address, John Keefe and Matt Waite, 2013
Additional Resources:
Sensor Journalism Webinar Series, 2015 – This is a series of videos discussing issues and applications of sensors in journalism.
Oct. 28
Oct. 29
Ethical Issues in using drones and sensors
Sensors and Journalism, Tow Center, Read Legal and Ethical Considerations & Recommendations
Watch: The Laws, Ethics and Politics of Sensor Journalism, Tow Center
Feel Me? The Promise and Perils of Sensor-Based Journalism, Columbia Journalism Review
Want to Fly a Drone? Here's Where You Can Do It (Legally, at Least), The Smithsonian interactive map and article
Watch: The Drone Between Us, TEDxOmaha
Oct. 31
In-person Drones and Sensor Workshop
GitHub Repository with Sensor Handout and code samples.